Primary School Wölfnitz
The primary school Wölfnitz is an all-day school in separated form and is located at the outskirt of Klagenfurt in the south of Austria. 14 teachers and 179 students attend the school. Sustainability is included in the school development plan, in the school's mission statement, in the school motto and the house regulation.
The School's motto is "Live – Learn – Laugh" and "Green – Global – Great".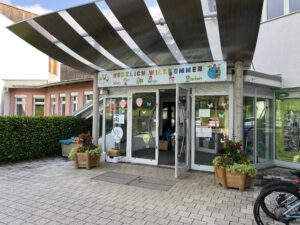 Below you will find quotes from the teachers, the school team and the students:
Commitment of the school leader…
"Our director burns (for ESD). And if someone burns so strongly, then she can actually ignite a lot of the teachers, so that they also participate." ( teacher)
Competence for ESD…
"Those are the seeds we can plant in the primary school, hoping that eventually it will sprout, start to germinate, and they'll remember it again." (school leader)
"You must have this fire and you must pass this fire on to the children …." ( teacher)
Sustainability is…
"Sustainability encompasses a lot of things, not just the environment. Sustainable is what I can pass on to the kids, the social learning … making them aware that we are more conscious of ourselves and the environment." ( teacher)
"Sustainability for me is waste separation, producing less plastic, biking rather than driving… At home we separate the trash and we don't have plastic cups for parties, we use glass." (student, 10 years)
Transformative learning is…
"I think transformation happens automatically when you learn and live sustainably.. Transformation is the result of sustained learning. […]" ( school leader).
All day school in separate form…
"Although it is a separate form of all-day school, the cooperation is great. … . We are a team – afternoon educators and teachers. … We have a common thread that runs through everything, we make sure that we work hand in hand, we communicate a lot at the school, we also take care of the garden, it doesn't just belong to the school, it also belongs to the afternoon educators, so it belongs to everyone." (afternoon educator )
Teamculture…
"We are a team as a school. … It is a great togetherness, that runs through the school. Individual colleagues are more active, others are happy to join somewhere and eventually have the courage to start something of their own." (school leader)